Mindful Capital Partners (MCP) is an independent Private Equity firm, active since 2007 and investing in small and medium-sized companies which could benefit from enhanced growth strategies in international markets. Headquartered in Luxembourg, MCP boasts a consolidated presence in the Italian market. In addition, it leverages on two local investment advisers covering relevant markets, DACH Area and China.
The result is a multinational structure and team that together constitute a distinctive entity and is an important competitive advantage. Our presence in, or direct access to, different markets enables us to finalize complex transactions, identifying opportunities in particularly interesting niches, and to give full support to the growth and international expansion of portfolio companies.
At the start of 2022, MCP opted for a rebranding of the Company: from the historic "Mandarin" to "Mindful". The acronym, however, remains the same, as well as the strategy, the philosophy and the team that puts our distinctive approach into practice. This choice, however, increases the sense of identity, a know-how that characterizes the Company in a rapidly and continuously evolving market.
The name's choice was inspired by the two elements that distinguish our strategy:
a risk averse approach in investment and management decision making, which has brought us a long way from the launch of the first fund in 2007, and the increasing attention we pay to the issues of sustainability, good governance and social impact in our portfolio companies.
We are aware, first and foremost, of the critical role we play within the industrial system and of the impact that our investment choices can have on the entire universe of relationships that make up the individual companies invested in.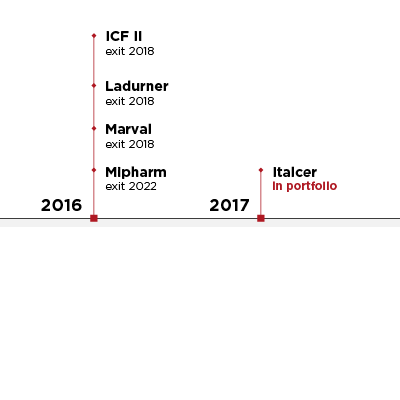 Premio Demattè 2012
IX Edizione – AIFI
Awarded Best Private Equity Deal of the Year for Euticals
Premio Demattè 2016
XIII Edizione – AIFI
Honorable mention for Internationalization for Dedalus
Premio Demattè 2018
XV Edizione – AIFI
Awarded Best Private Equity Deal of the Year for ICF
Premio Demattè 2019
XVI Edizione – AIFI
Awarded Best Private Equity Deal of the Year for Marval
Premio Private Capital Tax & Legal Focus – I Edizione – BeBeez & PBV
Awarded Best Private Equity Deal of the Year for Neronobile